Pastor Rachel B. Livingston
Cheltenham United Methodist Church
July 19, 2020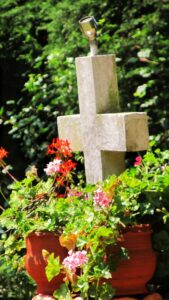 I. Beginning
As I grew up, it was important for my family to connect me to my history and the journey of my ancestors. As I look back, I can remember a hymn that hung on lips of my foremothers and forefathers that said, "Sometimes I feel like a motherless child, sometimes I feel like a fatherless child, sometimes I feel like a parentless child, a long way from home." These were words that were expressed by someone who had been displaced from home. But it was more than that, they were not just displaced from their home but so broken with the weight of the oppressions of the world on their neck, with the weight of the world choking the life out of them, and with the shackles of their situation suffocating the movement of love within the world that they could not even feel the love of the one whose love is normally a given. They could not feel the love of a mother or a father, and it may seem as if the love of their own creator, their God, was nowhere to be found. Their situation left them in the in the blues, in the heartache of feeling alone in the world, with a crisp gentle moan of the heart, with guttural stirring deep within the soul, with a shaking sorrow that can be played over a melody to move the spirit deep within. The question is raised, have you ever felt deep within your gut, the soul wrenching, heart throbbing feeling that the whole world around you feels like a lonely world, that you are living here without the love of a parent and that God may seem silent in your abandonment? Have you felt stirred by the blues that you felt like a motherless child, a parentless child, a long way from home?
II. Trouble IN The Text: Christians In The Church Of Rome
As we discussed last week, this scripture was a letter written by Paul, to an established Church of Rome. This community of Christians in Rome was a community of Christians that in some ways may have felt as if they were outsiders, that they were not wanted anywhere. These Christians made a decision that was counter to the culture, a decision where they had to keep their heads down because their faith pushed against the majesty of the Roman Emperor. They had the audacity to claim that there was only one God and that Christ was the savior of the world. To them the Emperor was not god, nor was Emperor the savior of the world. This ideology that these Christians internalized, was contrary to the Roman religious cult and structure of society of the time. They made a decision that often aligned them with those that were on the lowest rungs of society: craftsmen, women, and those in servitude – not people that we would call outcasts today, but people that would be looked down upon in the ancient Roman culture because they were nowhere near the upper class of society and they were often not well respected. They made a decision that in some cases had driven them out of their own lands of citizenship for their own safety. As Christians they made a decision that might have even caused them to be ostracized by their families, essentially making them drifters, creating an identity as motherless and fatherless children. And while this was written before Paul's incarceration, this society, this Roman government, persecuted Paul and Peter because they submitted to the teachings of Christ, claiming Christ to be supreme and the salvation of the world rather than the Emperor. This society, this Roman government, was oppressive, it choked the life out of the essence of the Christian, denying them what they had dedicated and opened up their soul to – it suffocated the very essence that was deeply rooted in their being as their Spirit became intertwined with God. They were literally strangers in a strange land, because Christ, the person at the root of their heart was a threat to society, therefore making THEM a threat to society. They made a decision at the root of their being, that made them a parentless child in the world. They were motherless, they were fatherless, a long way from home.
III. Trouble In Our Context: Racial Injustice
As we look at our world, we see that our country has had to acknowledge the racial injustice that is present within our society. And through the leadership of our bishop, Bishop Easterling, she has encouraged us to face this issue head on, to have the difficult conversations as the people of God. If we look at some of the current events, we can lift up the names of Ahmad Arbury who was gunned down as he was out for a run, Breonna Taylor who was killed in her sleep, Elijah Mclain who was killed through interaction with the police as he went to the corner store to buy iced tea – these are just a few of the names, these are the present names in the news, the names that have been brought up in the past few months that in many cases went unknown for a while. But there are also many who have suffered similar fates whose names are unspoken, whose names are unknown. For some of our black brothers and sisters, it feels as if the larger society has suffocated and choked them, all for the skin that they are in. And while attention to this has brought about some systemic changes, it is hard to ignore the history that created a society where, because of the skin they were born in, they are treated as if they are strangers in a foreign land, rejected by the land that birthed them, feeling like a motherless and fatherless children. And even though changes have occurred, there are still major strides that need to be made. And as I bring this up, I am not trying to be partisan, but bringing attention to the fact that some people in this world feel that their humanity is stifled, some people feel as if their identity as made in the image of God is in question, and some feel as if society has only perpetuated this degrading concept. And as Christians who function in God's love, we should feel discomfort when the world makes people feel as if they are less than cherished by God, as if they are motherless and fatherless children, a long way from home. And as Christians, who live in the body of Christ, as part of the body groans and grieves, we too feel the pains of grief. But our society has once again allowed people to feel the groans deep within their soul, feel the guttural moans deep within that leave the hymn on their heart – Sometimes the world makes us feel like a motherless, fatherless child, a long way from home. And on top of that, within the last two days we have lost some Civil Rights Movement giants, in the death of John Lewis and C. T. Vivian, some of the mentors that taught us how to effectively respond to injustice are leaving this earth. Have we learned enough from them, and have they departed enough of their wisdom? It may seem to some that the fathers and mothers that directed us on this journey of righteous indignation for our souls are no longer pushing us forward because they have now found their resting place in glory – so we stand again feeling like motherless and fatherless children, a long way from home.
IV. Hope In The Text: We Are Children Of God
So we sit in our groaning, enduring the labor pains that keep us bound, hoping for the redemption that is birthed in a messiah, a savior that brings redemption. As the Church of Rome and our present reality feel the stirring of a heavy heart there is hope within our text this morning. Some may remember that my first Sunday, I mentioned that we must center ourselves on Christ. It is imperative that we realize that we are in need of God, we have been justified through Christ and been given salvation. It was Christ who offered himself as a sacrifice, who laid his life down as a means of redemption for the world as he endured the pain of being beaten beyond recognition; he was bruised until his skin was discolored; he was stretched out and nailed to a cross, gasping for air to fill his lungs; he endured such pain for you and for me – that we might be able to have relationship with him and know we have been saved, know we have been redeemed, know that we have received God's justifying grace.
And as we met last week, I encouraged us to live a life that grows in God's grace, that grows beyond justification and leads us to sanctification. So secondly, I ask that we pattern our lives after Christ, filling us with the Spirit that makes it so that our actions are intrinsically guided by our God. This means to love God and love our neighbor as ourselves, to clothe the naked, to feed the hungry, to take care of the sick, to live a life that is pleasing to God that reflects that Christ lives within us, to grow in faith, to serve the world, and to share the love of Jesus with the world. We as a church have been called to embody the Spirit within us, that the work of ministry that we do, can reach and transform the community that surrounds us. We are called to embrace the Spirit of God within us and live according to the Spirit, embracing that sanctifying grace.
And as we live in the Spirit, we are reminded that we have been adopted as children of God. We have hope because God has claimed us as God's own. The world will put the stress and strain on us that has us sinking into fear, but we have received the Spirit, the Spirit that makes us children of God – heirs as children of God, heirs that receive salvation, heirs of redemption, heirs of a promised resurrection. Historically the world has made the Roman Christian feel like a stranger in a strange land, an ostracized individual, a traitor to the Empire, a motherless and fatherless child. And in this scripture Paul gives the people hope – you are no longer a parentless child because you have been adopted by God, you are claimed as a child of the Most High God. And the same goes for us and those around us. To be Christian in society makes us feel like a stranger in a strange land, because we are shaken to action when the world rejects the oppressed, we suffer empathetically with the outcast, and we grieve as God grieves with the presence of injustice in the world. As society tears us down and the community around us that has suffered oppression, and devalues our presence, it causes us undo stress and strain. But God transcends all of society, God has claimed us as children of God, God has adopted us. God has connected with us so deeply that in our moments of fear, in our moments of despair, in our moments of oppression, in our moments of hurt we can call out to God, " Abba, Father, Holy Parent, come near." And in response God's Spirit bears witness to us and connects to our spirit, and we become so intertwined that we are deeply connected to God. We are fully rooted in our relationship with God, intimately intertwined and entangled, that we become so connected to God that God lives within us and our actions intrinsically reflect the behaviors of Christ. We are so connected that we are assured of God's presence with us on the journey – that even when the world around us gives disappointing news at every turn, we know that God is right there present on the journey. And in God there is peace, love, mercy, and grace.
And that makes all the difference in the world, because as we traverse the world the surroundings have weighed heavy on us, invalidating who we are, questioning our humanity, casting us aside, bringing us to the place that we feel like we are a motherless child, a fatherless child, a parentless child, a long way from home. And as we give ourselves to God, God says we are no longer parentless because we are God's. God says, "You are my child and your hope, your peace, your mercy, your love is right within me, within the Spirit." We are affirmed in this and we can boldly lift up the words, "I am thine O Lord, I have heard thy voice and it told thy love to me – because you have claimed us, you have met our woeful cries with adoption as a children of God." We are overjoyed to claim the words "'Tis so sweet to trust in Jesus, just to take him at his word," because God's word has called us chosen by God in the midst of a world that fails to do so. And we can take joy in the idea that God walks with us, and talks with us, and tells us we are God's own. God has dramatically changed that way we view the world, God has affirmed our being and validated us as precious and valued creations cared for and loved by God.
The groans of life have allowed us to utter: Sometimes we feel like a motherless child, sometimes we feel like a fatherless child, sometimes we feel like a parentless child, a long way from home. And in the midst of all this, God whispers in our ear, "You are no longer a parentless child a long way from home, because I have claimed you as my own and there is peace within me, your home is within the body of Christ."
We must center ourselves in Christ – Choose Christ for ourselves. We must internalize the spirit of God and let it transform our very being. And through this we are Children of God – heirs to salvation, heirs to redemption, heirs to resurrection, we are made brand new. And as the world may tear down others around us down, we as people of God can affirm that they are created by God and claimed with a price by God, because they have been made in the image of God and God wants to welcome them into the body of Christ and claim them as God's own. We know this because we have experienced this for ourselves, when we felt like we were motherless children, far from home, God has made us heirs and God's children, therefore we know that God has extended the same to others. In God there is no motherless child, In God there is no fatherless child, in God there is no parentless child, a long way from home. Our reality told us that we were motherless children, but in God we are no longer motherless because God has adopted us as God's children, and home is located within the peace of God and the body of Christ.