CHELTENHAM UNITED METHODIST CHURCH
IN-PERSON WORSHIP SUSPENDED
DURING COVID-19 STAY AT HOME
Out of love and concern for the most vulnerable members of our church community and broader community in light of the COVID-19 outbreak, Cheltenham United Methodist Church is joining the other churches of the Baltimore Washington Conference of The United Methodist Church in suspending all in-person worship services and programming in our building during the duration of the state's restrictions.
We encourage all our community members and our neighbors in Cheltenham to take good care of themselves, one another, and protect the vulnerable during this challenging time.
Support the Mission and Ministries of Cheltenham United Methodist Church. Use the link at right to make a one-time or recurring charitable donation.
Connect with Us:
In person: 11111 Crain Highway, Cheltenham (map)
By mail: PO Box 146, Cheltenham, MD 20623
By phone: 301-782-4260 (office)
————————————————————————————
Grow in Faith. Serve the World. Share the Love of Jesus
Upcoming Events
Regular Weekly Schedule
Monday Methodists meet 9 a.m. each Monday in Furgang Hall

Knitting Circle meet 10 a.m. each Monday in Furgang Hall

AA and Al-Anon meets Tuesday evenings at 8 p.m.

Band and Choir meets every Wednesday at 6 and 7:30 pm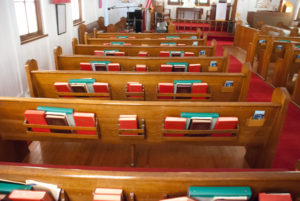 You are always welcome to be part of our church.
————————————————————————————
Grow in Faith. Serve the World. Share the Love of Jesus
Web page designed by Samantha Reed