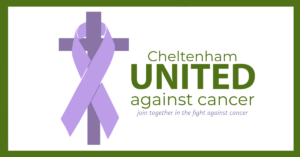 During the month of May we will be walking Wednesdays and Saturdays at 9 a.m.
Walk Against Cancer
COVID has kept us away from one another too long and now we are taking the opportunity in the month of May to join together in the fight against cancer.

May 1 at 9am
at
Patuxent River Park (Columbia Air Center Memorial)
1600 Airport Croom Rd
Upper Marlboro, MD 20772

We will kick off our walking team throughout the month of May (we will be meeting twice a week).

Many we know have been affected by cancer and so we are taking a step to bring awareness by walking for a cause.
In the month of May we will take a moment to walk on behalf of a loved one. If you would like to make a donation in the name of a loved one, you are encouraged to do so as we walk.
All contributions will go to the American Cancer Society.

×
Who are you walking for?
The lavendar ribbon stands for all types of cancer.
Let us list the names of those we are walking to remember. We will be collecting names each time we walk. First names only are fine.
* Johnnie Smtih
* Milton Kent
* Debbie Rawlings
* Alice Roberson
* Cherry Cummings
* Creva Neimeith
* Mary DelBianco
*Lana Tuschmann
*JR Ressler
*Kevin Boyd
* Don & Betty Ellis
*Dwain Livingston
* Wade Rawlings
*Lynn Scanlon Mavilia
* David Werner
*Judy Reed