Mondays 10 am in Furgang Hall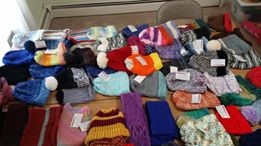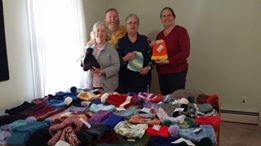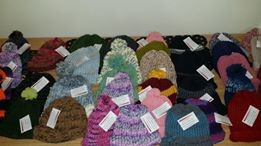 Last summer's project was brought to our attention by one of our Knitting Circle members.
We have knitted over 100 hats and scarves for "Warm the Children" which is a program to help the children of Romney, West Virginia. .
who are we and what do we do?
A group of folks meet on Monday mornings to share a snack and work on our knitting projects. Currently we are knitting hats for the homeless runs and the SOME (So Others Might Eat) shoe boxes that we help fill each fall. We are also knitting hats for the Warm the Children program in West Virginia as well as Shannon's comfort care bags that are distributed to cancer patients at Anne Arundel Medical Center.
Loom knitting is easy to learn and fun to do. We welcome all skill levels, even beginners who want to learn. Have yarn stored away you'll never use? Drop it off and we will make something soft and warm for someone.
Here is a video of instructions for beginners:
This loom knitting tutorial presented by
LoomaHat.com
is truly one of the most detailed loom knitting videos for beginners I have seen presented anywhere on the web.
Click on the yellow hat below.
We have hats and scarves that will be for sale at the Holiday Bazaar each Nov. Stop by the church's tables in the middle of the hall and check them out.

Thank you to everyone who has donated yarn. We say it is work, but we really enjoy our time and fellowship together. If you would like to learn, please join us at 10 am on Monday mornings. Donations of yarn are always welcome. See Crystal with any questions.
Our ministry started with the goal of making hats for the homeless population of Washington D.C. that could be distrusted through our outreach team. We made well over 100 hats to donate to our homeless neighbors on Christmas Eve 2017 and through our shoe box ministry for So Others Might Eat (SOME).
The winter of 2018, we began knitting small preemie and newborn hats for Southern Maryland Hospital. This expanded to preemie hats made with red yarn to help raise awareness of babies born with heart defects. These hats were donated to the AI DuPont Children's Hospital in Delaware.
Our project for the summer of 2018 has been making hats and scarves for children in Romney, WV for the Warm the Children Program. We completed well over 125 hats for these kids. They were delivered in October, just in time for the cold weather.
In 2019 we added the comfort care bags to our ongoing project list. Fortunately we have lots of donated yarn and our group has grown from 6 members to 12. If you would like to come and learn, you are welcome to attend.