May 4, 2019 ~
7:30 am-2:00 pm
Mark
your calendar for the Spring Fling!
Join us for our annual spring yard sale and
Spend Saturday morning treasure hunting at our huge yard sale. You never know what you will find. There will be furniture, clothes, dishes, tools, collectibles including Lighthouses, children's books and toys, etc. Be sure to stop by and have a hot dog or soda. There will be baked goods as well. All proceeds go to our church to fund our ministry programs.
Our healthy plants are a cut above those grown elsewhere and shipped in to be sold at large box stores. Our flowers are grown locally. Plants will be sold individually as well as in flats, with 18 plants per flat. There will be a large variety of flowers, spikes, Sweet Potato Vines, and much more for sale! We will also have Hanging Baskets, urns, Flower Boxes and (new this year!) garden accessories!
Our hanging baskets will include Cascading Petunias, Ferns, Begonias, New Guinea Impatiens, Non-Stop Impatiens, Rosebud Impatiens, Portulaca, and Fuchsias, among others.
Keep in mind that Hanging Baskets will bloom until the end of summer, and they should be watered frequently. They like wet feet, and i
t would be a good idea to water them daily. Once the roots dry out it is nearly impossible to bring them back!
Clear the Clutter! We Accept Donations!
We are accepting all kinds of usable household items such as toys, clothes, books, household appliances, kitchenware, decorative items, etc. Yard sale donations will be collected on Wednesday, May 1 through Friday, May 3 in Furgang Hall from 6:00 to 8:30 p.m. We can help pick up large items.
We also accept donations of chips, baked goods, uncooked hot dogs, sodas and other beverages to be sold at our food stand.
If you would like to pitch in and help out, check the Red Book on Sunday to sign up! Any extra hands would be greatly appreciated and thank you for your dedicated support.
Don't miss a great day of fun, food, and
fellowship at the

Spring Fling

!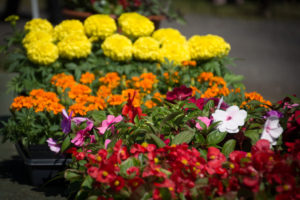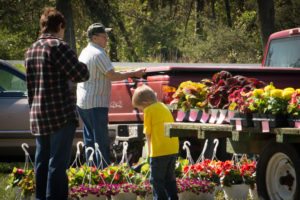 Photos from 2016 Spring Fling!