Pictorial Member Directory for
Cheltenham United Methodist Church
The file is password protected. Contact Crystal Reed for the password.
ONLINE APP:

Our church directory is available to view on your mobile device! Instant Church Directory – the program we use to build our church directory – has a free app for church members to download on their Apple, Android and Kindle Fire devices. It automatically updates information when I update the database. To download the app to your Apple device, click here: https://itunes.apple.com/us/app/instant-church-directory/id589542221?ls=1&mt=8
To download the app to your Android device, click here: https://play.google.com/store/apps/details?id=com.instantchurchdirectory.members
To download the app to your Kindle Fire, click here: http://www.amazon.com/Communication-Resources-Inc-Instant-Directory/dp/B00D76604E/ref=sr_1_1?s=mobile-apps&ie=UTF8&qid=1371671565
You will be asked to enter your email address as it's listed in our directory. If your email address isn't listed in the directory, let [ADMIN NAME] know so it can be added. Once you enter your email address follow the directions on screen to complete the login process. After you login, the directory will be downloaded to your device. Anytime updates are made, they will update on your device too. In the app you will be able to search for families and members and call, email and text right from the app.
More information can be found at www.InstantChurchDirectory.com/app.
Hopefully this helps for those who have been asking for the updated information.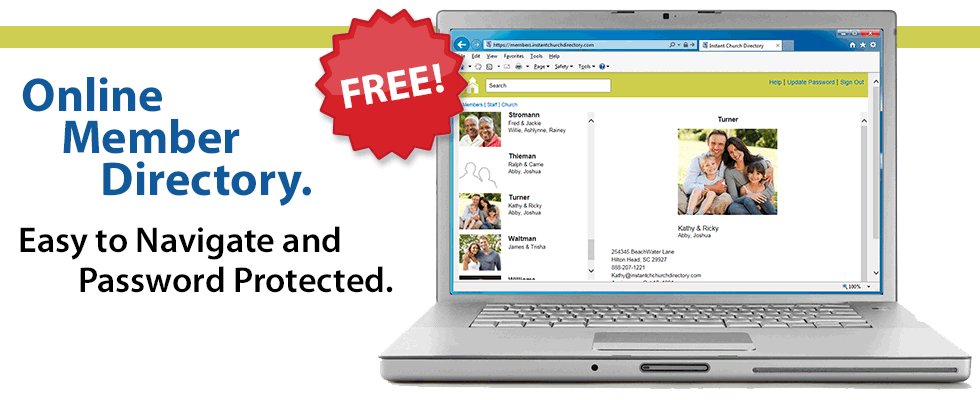 In an attempt to keep our information up to date, we are continually updating information as things change. If there is something in your families information that needs updating, please contact us with that information and we will update as soon as possible.
We will be offering updated photo opportunities this fall (2018). Stay tuned for more information.