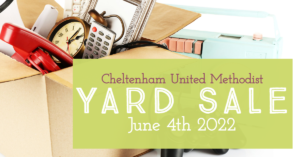 Cheltenham Community Yard Sale – June 4, 2022 8 am to noon
11111 Crain Highway, Cheltenham, MD 20632
The yard Sale day is a one day, sell almost anything you want outdoor sale. Yard Sale day is perfect for selling pre-loved furniture and home décor, tools, books, antiques, crafts, toys, collectibles, clothes, and more.
Here's the concept: You collect things you would like to sell, price them as you see fit (pricing each item or doing a batching system- all books 50 cents) whatever you choose, after all, it's your stuff!

Load up your vehicle with your items, table, tarps, blankets etc. and head to the church on June 4, 2022. Set up starts at 7 and sales start at 8.

Park in your designated area and start displaying your wares.

Sell, sell, sell, and enjoy the fellowship time with others in the community.

When closing time arrives, pack up your unsold items and clean up your area.

Leftover items should be taken home or to a donation center by you. We can not have items left at the church.
Got Junk?
Each vendor space is a parking space measuring 12 feet wide. You can park your vehicle, trailer etc. to sell from.
You can, rent as many spaces as you'd like for just $25 each. Any donation that you make to the church for our ministry would be greatly appreciated.

It's that easy! You must sign up in advance and can do so online.

If you come to sell at the yard sale without signing up, you will be charged $35 on the day.
Tables / tarps or blankets are required to display items. While we call a yard sale, we don't want it to look junky! Please do not place items directly in the grass. We want the shoppers to be able to see what you have.
Ready to sign up? Here is the link to fill out the registration form https://bit.ly/CUMCYardSaleRegistration
Once we receive your completed request, we'll send you a confirmation via email. Once you receive the confirmation email, you need to submit your payment by June 1, 2022.
You will receive a separate email with rules and guidelines prior to the sale. Yard Sale day is a rain or shine event. You may bring a tent or market umbrella if you would like. No refunds or roll overs.
We look forward to seeing everyone for fellowship, community interaction, selling and shopping.

The Yard Sale Committee