Feeding and clothing the homeless in DC
Next Homeless Run
We are currently taking donations of men's socks and underwear (sizes L and XL boxers or 32, 34, 36 briefs), t shirts, woman's underwear, backpacks, blankets and any other items you believe would help make the homeless person feel safe. As the weather warms, we are also looking for men and woman's shorts and short sleeve shirts. We are also accepting donations for "Health Kits" which contain hotel size shampoo, soap, tooth brushes and tooth paste, shaving razors and combs.
If you would like to be on our team that goes into the city to take meals and the clothing donations to share with those less fortunate, email Pastor Denise (dndmillett@msn.com)
Annual Holiday Bazaar 2016
Thank you to everyone who joined us to shop, eat, and visit with Santa Claus.
Special thank yous to Brandywine Volunteer Fire Department and the Charles county sheriffs for sharing their trucks, police cars and valuable information which will help to keep us safe.
THANK YOU TO ALL THE CHURCH FOR COMING TOGETHER AS ONE FOR THIS JOY FILLED EVENT!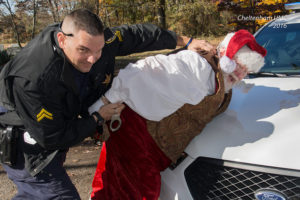 "Call it in to dispatch. I've got the 'Big One.'"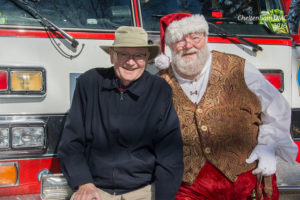 "Yes, Santa, I've been a good boy.
Now can I ride in the firetruck?"